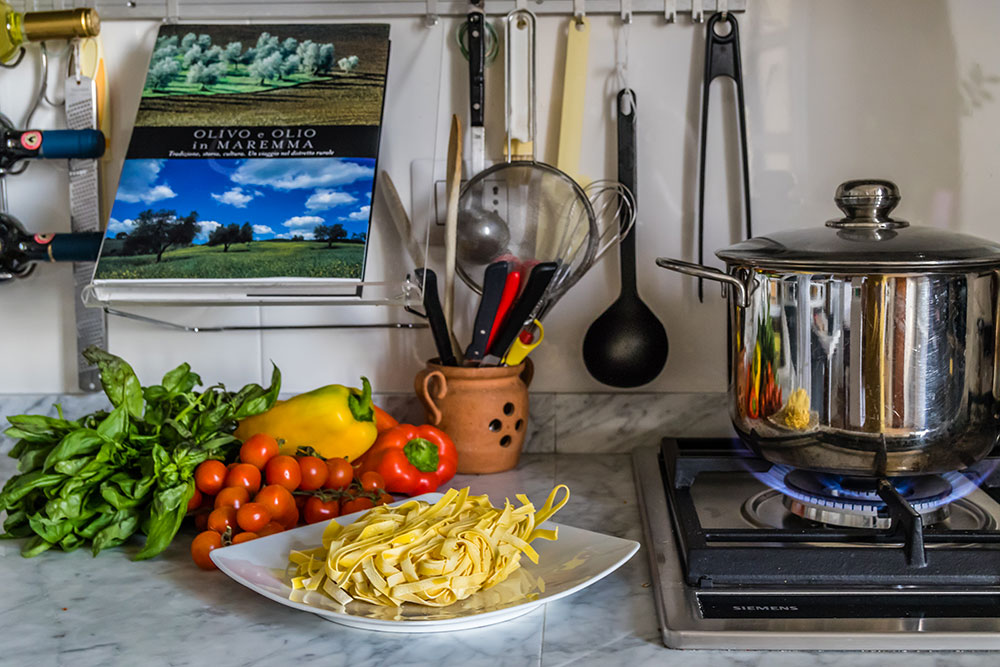 Cooking Basics & Around the World
Grade Level: 7th – 12th grades
Ages: 13 – 18
Classes Meet: Thursdays
Semester 1: Thursday, September 9th – December 2nd, 2021
Semester 2: Thursday, January 13th – March 31st, 2022.
(December 9th and April 7th will be make-up days if needed.)
Times: 10: 00 – 10: 50 am 
Instructor: Tracy Ramsour
Instructor Email: tracyramsour@yahoo.com 
Tuition / Fees: $250.00 tuition ($125.00 per semester) + $30.00 Supply Fee per semester. An enrollment fee of $25 plus the materials fee of $30 is due within 2 weeks of registration and will come off of your tuition. Both the supply fee and enrollment fee are non-refundable and will hold your place in the class.
Course Description:
In this hands – on, interactive cooking class your students will learn about not only food preparation, but meal planning, reading recipes, measuring and converting ingredients, reading and understanding food labels, how to make healthy food choices, and how to use various methods of food preparation. Each week we will prepare at least one recipe. Recipes will include main dishes, side dishes, soups, salads, baked goods, and of course desserts! We will be incorporating recipes from around the world. This class is a perfect compliment to World Geography. Food and kitchen safety will also be stressed, along with the important step of cleaning up! Students will need to bring some basic cooking tools to class from time to time. I will supply a complete list before classes begin. Most likely, they will all be things you already have at home. I would ask that if your student has food allergies that you let me know upon registration. This will be a fun and productive way for your student to gain an elective credit. This is a full year class worth 2 credits.
I will be taking an enrollment fee of $25 along with the $30 supply fee. The enrollment fee is included in the price of the tuition. You would only owe $100 for the remainder of the semester. Both the enrollment fee and supply fee are non-refundable.
Minimum students to hold the class is 5 / maximum is 12.
If you have a student with special needs, please contact me directly to discuss.